A cutting-edge platform that simplifies data
aggregation, control, alerts, and analytics.
AGxano's open system platform provides growers a foundation to connect critical assets and
start monitoring in real-time. Analytics and control provide actionable insights for a more immediate
improvement in quality and potency.
Plan your next cycle based on historical performance
Reap from what you sow
Continuously improve each cycle by evaluating historical data of your previous cycles to make small adjustments that result in large returns.
AGxano Historian
Alarm Effect on Yields
Catch issues before they happen
No plant left behind
Direct alerts via SMS and/or email that gives operators and managers the tools to stay on top of problems before they become an issue and preventing any further loss in yields.
Understand your energy input
Power is money
Analytics with utility grade power monitoring on every fixture means precise reporting and insights into how your energy consumption affects your yield and bottom line.
Customizable Energy Reports
Yield and Energy Consumption Relationship
Virtual access from
anywhere, anytime
No strings attached
Whether you're in the facility, at home, or on-the-go, monitor your entire facility health and status from any browser or mobile device.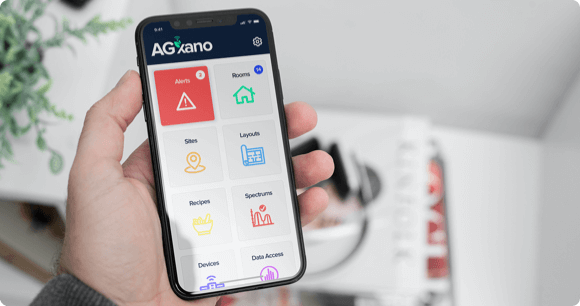 A complete and scalable
solution made easy
Non-invasive installation for new construction and retrofits
Complete solution that can be deployed on a private network or your existing one
256-Bit Security Encryption with rigorous vulnerability analysis